Re-using and Re-Envisioning Banners, Backdrops and Displays — 3 Tips For Getting the Most Life Out Of Your Marketing and Sales Materials
We've all done it. Kicked ourselves after an event for not designing something in a more timeless manner so that it could be used more than once.
When a tradeshow, conference or event is looming on the horizon and you have new display materials that need to be designed and produced, your focus may not be on what happens after the event is over. But considering how you might want to use your new retractable banner, backdrop display, vinyl banners, posters, or handouts again can save you time and money in the long run.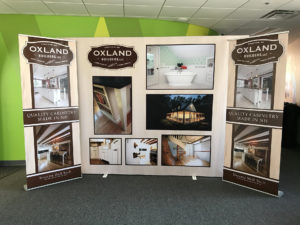 Effective display and marketing materials are an investment. So why not ensure those investments pay the highest dividends?
Would a colorful branded retractable banner jazz up your next internal meeting? Could a banner with a compelling image of your product be hung as a backdrop during a training? Will you want to take this outdoors and use it again after your indoor event?
If you plan to reuse, here are three quick tips on how to get the most life out of your materials:
1. Ditch the Date
Do people at your event really need to know what the date is? They are already there. On the welcome board in the lobby with the event-specific agenda, yes. On your presentation backdrop or banner that will otherwise remain unchanged from year to year, no. Eliminating specific date information is an easy way to make sure you have the option to reuse.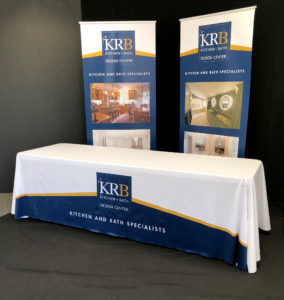 2. Limit Text
Your event or tradeshow materials are meant to capture people's attention and inspire someone to engage more fully with your business or organization. They aren't the right vehicle for long explanations or wordy descriptions that might change over time. Leave the narrative to the people staffing your event or the handouts or brochures available for people to pick up and learn more later. Keep your banners and backdrops eye-catching and simple and they will stand the test of time.
3. Make Versatile Choices
Think ahead to how you might want to reuse your item and give yourself options when making design and production decisions.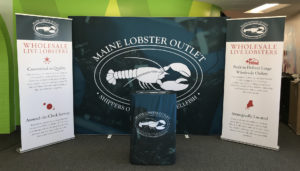 Floor or tabletop: There are retractable banners that can be used as a full size (6ft) standup or as a tabletop (4ft) size, which can be a great way to expand the versatility of your banner. If you envision wanting to display information at two different heights, you'll need to design the banner with this in mind (in the tabletop setting the bottom portion of the design won't be visible).
Inside and/or Outside: Retractable hardware hates grit and dirt. So if you plan to go outside, consider another vertical display option, such as a vertical flag, which would work better in both environments or be sure to select a base designed to withstand the out-of-doors.
Wear and Tear: Posters on foam core are economical, but don't stand up to wear and tear over time. Selecting a more durable material like coroplast can be the right choice for reuse.
Are you ready to reuse? Contact us about your next project and let us work with you to get the most use out of your materials.